One hundred years at the Caurnie Soaperie.
TUCKED AWAY in the quiet Scottish town of Kirkintilloch is a small soaperie celebrating a big anniversary. Founded a hundred years ago, 2022 marks the centenary of Caurnie Soap Soaperie.
Returning from the battlefields of the First World War, weary of the misery he had seen, Scotsman Jimmy Little built a small humble building in Kirkintilloch and began making soap.
The aim was simple: to create Scottish natural skin care products from organic herbs and essential oils. The business was an instant success, and today his grandson, Jim Little, runs the soaperie which still operates from the same small premises and uses the same traditional hand made methods.
As a boy in the 1960s, Jim helped on Saturdays and after graduating in the late 1970s in chemistry, he joined the family run business full-time.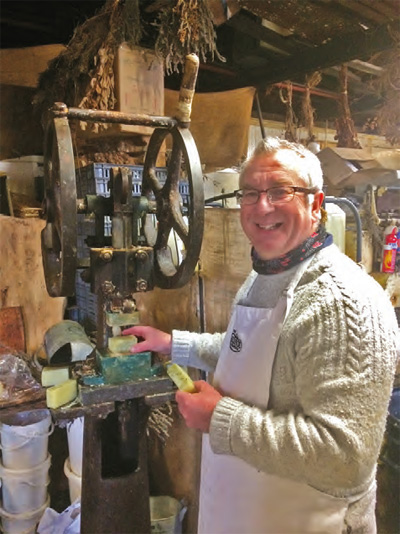 Caurnie soapman Jim Little
Visiting Caurnie Soaperie is like stepping back in time. From the soap-splattered granite floor to the rafters full of drying herbs filling the air with scents and the hundred year old soap cutting tools, this family run business is truly traditional and authentic, right down to its name; 'Caurnie' was the old name used for the town of Kirkintilloch.
Set within its own organic herb garden, this unique, local award winning business creates the finest Scottish natural skin care products from organic herbs and essential oils. Their products are all vegan and hand made, using extracts of Scottish plants and old-fashioned methods that create a purer, gentler product.
They offer a wide range of natural skin care products including: fresh herb soap, nettle soap and botanical soaps, organic shampoos, shower gels and body washes, body butters and skin lotions, including the award-winning bog myrtle body butter.
"Our top 5 products are nettle soap, nettle shampoo, nettle moisturiser, Calendula lotion, Yarrow geranium soap, and I have to include the solid shampoo", says Jim.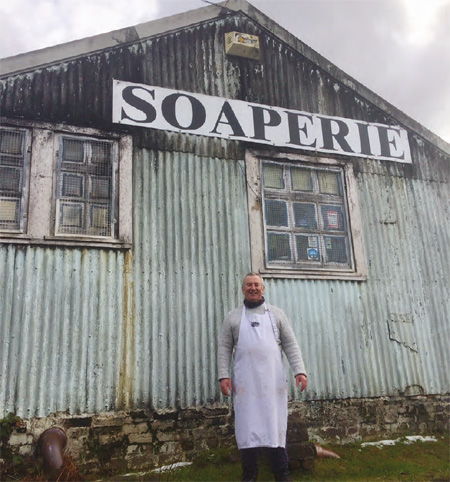 Caurnie soapman Jim Little
This working soaperie also happens to be the oldest and last working soaperie in the world operating the cold process. The cold process is known as the natural way of soap making. Retaining the oils' natural glycerine (or glycerol) to help make the soap cleanse in a very gentle way and retaining the skin's natural oil mantle more effectively.
"Pure soap made since the first days is still sought after by Multiple Chemical Sufferers (MCS) and it has been associated with beneficial long term use", explains Jim.
"For over 100 years we've been making an organic Vegan Nettle range, a favourite with people who suffer from psoriasis, eczemas or sensitive skin. It is hugely popular and helps so many of our skin problem sufferers."
The hand cutting assembly, and other machinery purchased in 1921 is unique and still used daily at the soaperie to hand press and cut every single bar of soap made today.
Caurnie grow all their own organic herbs including Lavender, Thyme, Sage, and Bog Myrtle, all of which can be seen hanging and drying in the soaperie building. All the herbs are sourced from central Scotland, and the main gardens surrounding the soaperie building itself.
"We have planted over 20 types of herbs, from which we crop and incorporate into a range of body care products. For over 19 years we have been growing a Yarrow lawn. Yarrow's Latin name, Achillea Millefolium, hints at its long tradition as a wound herb. Achilles of Troy Wars' fame, is reputed to have used it on his wounded men to repair skin back to normal health.
"One of my favourite aspects of the soaperie is combining plants grown in my organic herb garden with benefits to customers in a simple energy efficient way. Being a custodian of the cold process is great as well", says Jim.
"We make our soap by hand in small batches which is a sustainable, eco-friendly method of production".
The original pure soap was delivered to customers' doors on a monthly basis till the mid 1970s. In the 1970s whole-food shops across the UK and further stocked the UFO shaped glycerine soaps in cucumber, rose and fern, to name a few.
Caurnie then began doing markets and are now regulars at the Edinburgh Farmers' Market in Castle Terrace on Saturdays and the Stockbridge Sunday market, as well as at markets across Scotland and at The Country Living shows.
Jim says: "Markets have had a hugely positive impact for Caurnie in the 30 years we've been doing them. Interacting directly with customers allows us to get to know them and build a relationship.
"Looking forwards, I see the company continuing to build on our wonderful history and legacy. Here's to the next 100 years!".
You can buy directly from the Caurnie website, or catch Caurnie Soaps at one of the local farmers' markets.
Caurnie Soaperie – Canal Lane, Kirkintilloch, Glasgow G66 1QZ 0141 776 1218 www.caurnie.com
FRANCES ANDERSON