Bathgate plays host to sacred art show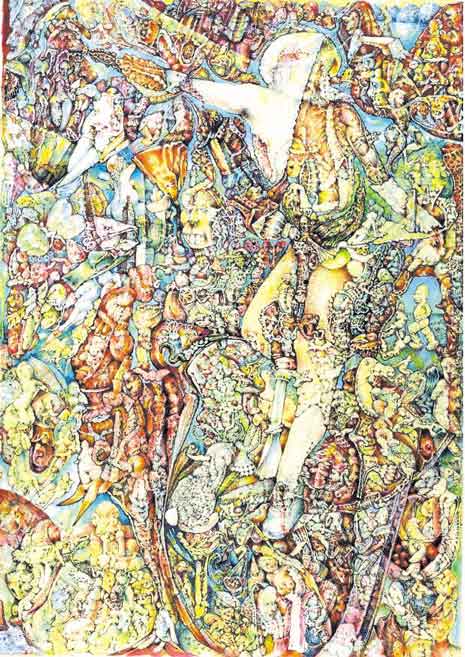 ST DAVID'S church in the centre of Bathgate celebrates its centenary this year. As part of the celebration the Reverend Elliot Wardlaw has chosen to put on an exhibition, which aims to include some challenging pieces of art.
This is good news for an area where visual art is not always high on the agenda.
Plans are now underway to hold the First International Religious Festival in August to coincide with the Edinburgh Festival.
A small group of enthusiasts have been brought together to organise the event meeting once a month at the Roxy Art House in Edinburgh.
Michael Borland, who runs the Roxy, has been very supportive not least by introducing artists to the group who are keen to exhibit in this type of venue. The Roxy itself was previously a church before becoming the Roxburgh Halls.
St David's is a unique building, which soon after it was built won a design award in Paris. It incorporates a complex of large halls, rooms, stairways and external grounds, which are all integral to the church. At the chancel end of the church there is a stained glass window, which was designed by William Wilson in 1947.
Wilson was a tutor at Edinburgh College of Art and the painter Alan Davie and Professor Richard Demarco were among his students. Davie and Demarco visited the church a couple of years ago to admire the window and reminisce about their student days.
The exhibition will make use of the varied and interesting spaces available. The context of the exhibits is wide ranging, including work that might not seem instantly recognisable as outwardly religious.
However, the organisers want the work to complement the spirituality of the surroundings and, with this in mind, the artworks have been carefully selected to reflect the church location. For example, one of the pieces chosen is a print by Paul Rooney relating to a performance piece based on the 77th Psalm. This was initially commissioned for St John's Hospital in Livingston and also performed at the Tate Gallery in Liverpool.
The Inverness based artist Donald McKenzie plans to create a 20 x 4 foot frieze beneath the huge window at the nave end of the church.
John Danezyszak, the former Director of the Artesian Group, is showing his seven foot high sculpture of a cross incorporating intricate paintings within the structure. This will stand at the left of the chancel below the stained glass window.
The painters James Page and Ruth Brownlee, the Swedish wood carver Kjell Ericson and the sculptors Robert McCubbin and David Hutchison are among the more than 30 artists exhibiting at the church.
The exhibition promises to provide an eclectic mix of work in a variety of media and also hopes to attract city Festival-goers, since St David's is only 20 minutes by train from central Edinburgh.
CATH BELL