A 'meanwhile' space is not for ever…
---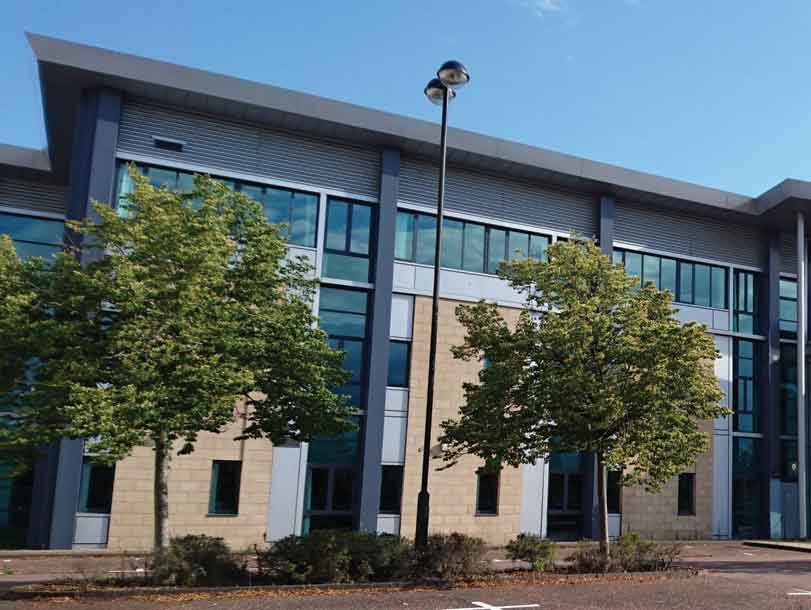 LAST YEAR I wrote an article which appeared in ArtWork 218 in which I reported that Edinburgh Printmaker Spaces (EP Spaces) had opened a studio space in Livingston, West Lothian.
In the article I described what EP Spaces do in general, that is, they find affordable spaces across Scotland for individual artists and groups. I also suggested that the opening of the Livingston venue would be a boost to the creative/artistic environment of West Lothian (something I have a personal interest in, having worked to try to improve this situation for years). The article was of a positive nature in which I praised the ethos of the EP Spaces programme and the work they do.
What I didn't mention at that time is that I was one of the people who moved into the building, the former HMRC office building known as Barbara Ritchie House (above), whose operation moved from Livingston to Edinburgh in 2001.
Now, unfortunately, I have to report that after one year, myself and all the other residents have moved out after being given one month's notice to vacate the building by October 31. This was always part of the deal and is in the contract, this is what is meant when the building is described as "a meanwhile space".
However, although this is the case, it was always the hope that this would not happen for a while (wishful thinking perhaps)? Even so, I have not changed my opinion of the EP Spaces programme and remain positive, I fully endorse what they are trying to achieve. However, this comes with the caveat that perhaps they are doing too much of the local council's work for them (and this applies to all areas of Scotland).
While EP Spaces do the pioneering work they do, it might just take the pressure off the local authorities to make the effort themselves to provide such facilities for creatives of all kinds – an important aspect of a healthy environment and one which is undervalued.
Having said that, I am glad to have had the opportunity to occupy the studio space. even if only for one year. As well as having a spacious and inexpensive place to work, during the course of that one year my partner and I held two contemporary art exhibitions and worked on four issues of our free arts magazine (BULB).
Also, with having West Lothian College just across the road, links were made with the college and residents of BRH and, as a result, some of the students held their end of year exhibition in the building. So, suffice to say, it was a valuable resource for the area, especially as a place where creative people are brought together. This is when artist-led projects can be more easily achieved.
A highlight of the year has to be the connections that were made with the two Ukrainian artists Vika and Ira (as discussed in ArtWork 223).
This is not the end, however, as EP Spaces continue to look around the area in order to secure another space for the future. My opinion has not changed since my original article last year, however, my experience of the last year has taught me that it is not advisable to fill the studio with too much unnecessary stuff: only take what's needed as you can be asked to leave at any time.
CATHY BELL
---