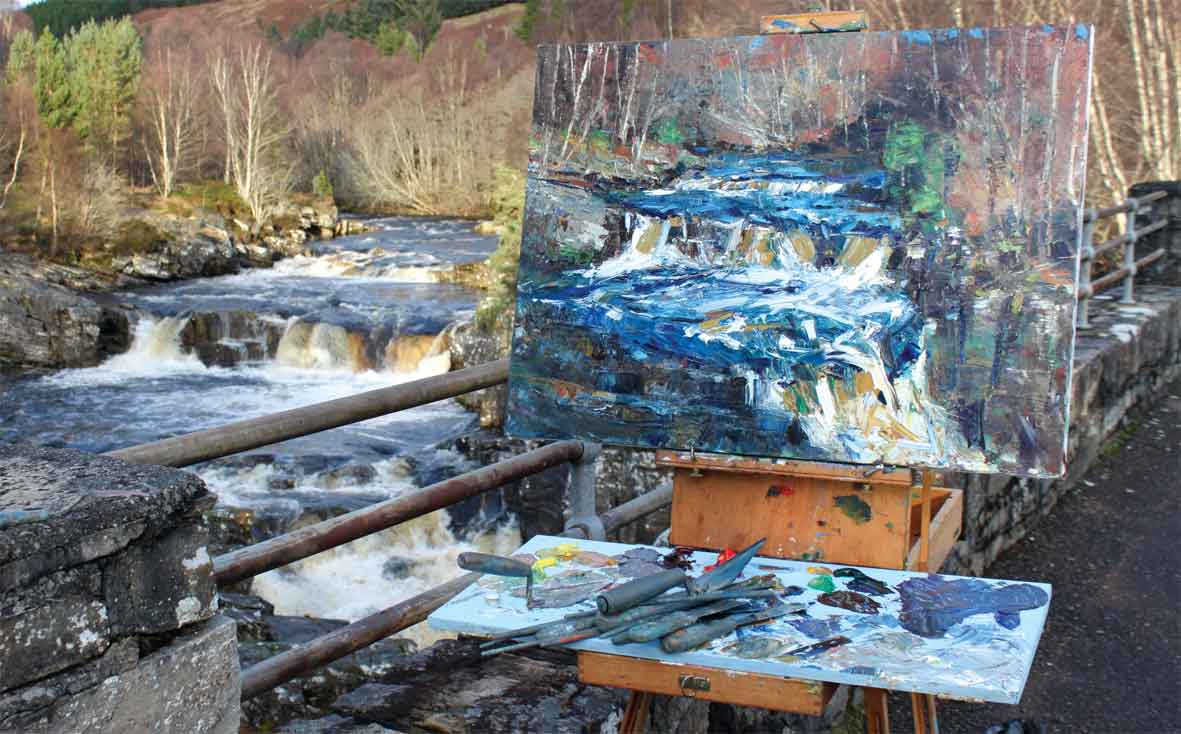 JONATHAN Shearer, whose exhibition 'Sense of Place' is at the Castle Gallery in Inverness during March, gives ArtWork an insight into his experiences of painting in extreme weathers and isolated locations, often far off the tourist track.
"I love the winter light in the Scottish Highlands, particularly at that time in the late afternoon between three and four - before hypothermia sets in! Summer light for me is more about the coast and the sea - the mountains are dull then!
"I can go out in all conditions with the right winter gear - fingerless gloves, four pairs of socks and now with new proper walking boots!"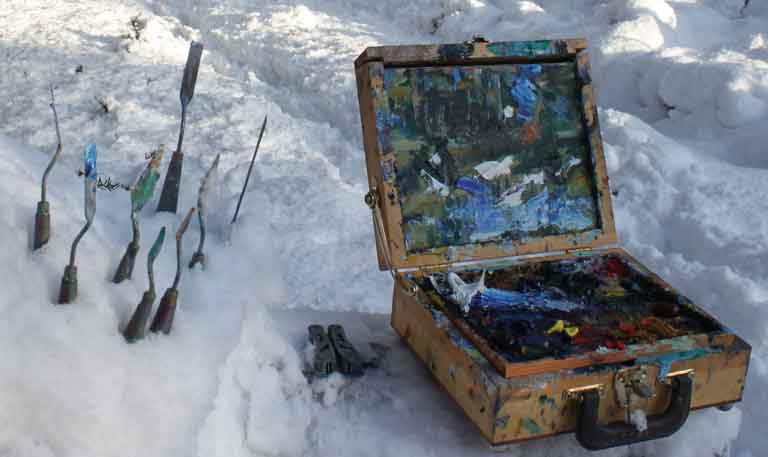 Knives (and trowels) at the ready
Being a keen hill walker, he sets out to previously remembered viewpoints, often revisiting favourite spots to contemplate and then to try to capture them in changing lights and conditions - "they are never the same again."
He takes inspiration from other artists who have grappled with the elements to paint en plein air - MacTaggart on Machrihanish beach; Frances Walker, painter and printmaker always working in remote regions of Scotland, as well as in Antartica and the Arctic.
Walker was his tutor at Grays. In 2010 her major retrospective, 'Observed in Solitude' at Aberdeen Art Gallery, marked her 80th birthday.
"Just shows," says Shearer, "as a painter, you improve with age - you never retire."
He is interested in the methods used by other of today's landscape painters such as Kurt Jackson and Robert McLauren, now working in the Australian outback.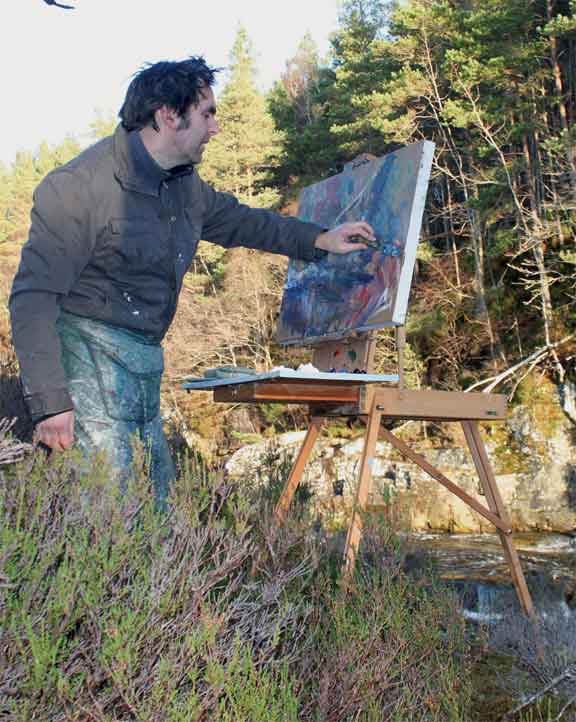 "I'm not bothered by fashion. It's the spiritual aspect and physicality of being outside, which is not always easy to translate but it happens there and of course it is important that it does happen! You have more control by being there and you have to treat that with respect. It is the raw energy required in capturing the light - maybe a bit rough and edgy but it is important not to labour or overwork."
Back in his home studio he would always use sketches made on site, rather than rely on photographs. In these far off places he sometimes meets other artists. Recently, absorbed in his work, a car drew up nearby and out got James Hawkins who came over for a chat.
After working with a lot of "rubbish field easels and equipment which falls apart as soon as you start painting," he has discovered a Mabef Box (supplied by Jacksons Art Supplies) which folds in and out easily and "can be carried for miles and miles." His impasto painting is achieved with knives and lately with pointing trowels, though "brushes are still there." These are stuck into the earth beside him or, as in the photograph, into the snow.
Shearer's mobile studio is his Fiat Scudo van, which he bought already converted by its previous owner, with window in the roof and now with bed and cooking gear. He is building a small canopy so that when his palette gets covered in an inch of snow he can take shelter.
"When my fingers start getting funny I run around for a bit and get out the flask of hot coffee."
Jonathan gives night classes in Inverness and in the Cromarty Arts Trust workshop. He shares John Byrne's recent criticism of art schools not continuing to teach the basic skills of drawing and feels that young students themselves are realising what they are missing and may start demanding a return to the fundamentals of drawing and painting.
Jonathan Shearer: A Sense of Place, Castle Gallery, Inverness, March 14 - April 4. www.castlegallery.co.uk