The Foldyard Factor…
ArtWork's Borders sleuth goes in search of a Russian connection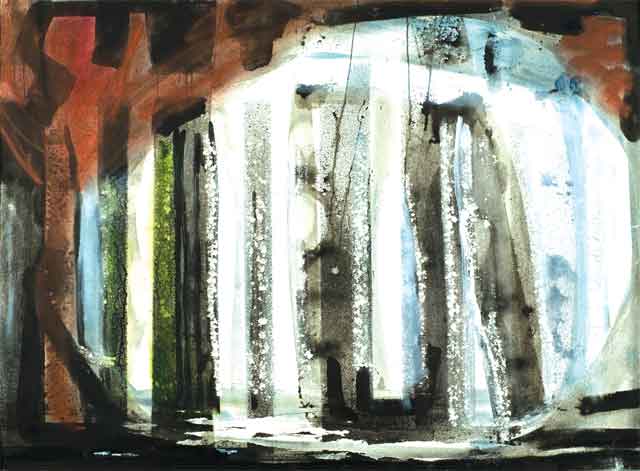 IN SEARCH OF Foldyard and a Russian Connection in Berwick-upon-Tweed. I'm rolling down Hide Hill towards the Tweed, in search of Foldyard and a Russian connection. Undercover stuff, so no binoculars, just eagle eyes. I know that, famously, Berwick was omitted from the Treaty of Paris in 1853, concluding the Crimean War. That's not it.
Towards the bottom, I spot Bridge Street. I'm getting warmer. Artists could be happy here, all sorts of special shops to hand, many essential to the artistic temperament - music; bicycles; antiques; a Polish grocery; framers; organic food; natural remedies; two pubs, Italian, Indian, even English restaurants; framers; art galleries. Handsome buildings, intriguing vennels leading upwards or riverwards.
A doorway beckons. I ring. Sash thrown open, key on string dangles in front of nose. Foldyard. At Foldyard, Dave Watson and Morag Eaton are in. A warm welcome, and intriguing house, all ups, downs and round-abouts. Ancient and modern both.
Once it boasted a fine view of the Tweed. All changed as Berwick prospered, trading Northumbrian grain out and Baltic timber in. Merchants needed warehouses, and fine houses. The riverbank was moved, so Bridge Street lost its frontage. Every September, coinciding with the Berwick Film and Media Festival, they open house and studios.
Like ripe grain, or oak-matured malt whisky, the work shown has been sown, cultivated and nurtured since last autumn, often longer. Their presence and influence is steady, subtle, far-reaching. It's a slow reveal of care, integrity, commitment and passion. It all matters. Not just the subject, and style, but every detail of every material.
A determination to get the exact texture, paper (handmade, pure cotton, Japanese), canvas (handmade stretchers, archivally robust), glass (German 'waterwhite,' tint-free, extra clear), frame (handmade, local wood, five coats of Farrow & Ball).
Dave makes his own paints with safflower oil – slow drying, clean, bright, clear colours. Each material's unique quality is treated with respect and delight, orchestrated and finetuned.
Both are inspired by and respond to Berwick, its past and place in today's world, on the edge of two countries, at the mouth of a great river and the sea. So Morag produced a series of images, using paper-plate relief print for new interpretations of Wilson's Tales of the Borders, stories of Berwick's troubled, turbulent past.
This medium proved well suited to the strong, simple block effect of the images. More recently she has been weaving inked Japanese paper to make tessellated pictures, forcing a more cubist, abstract approach to colour and form, highlighting the trauma of refugees making perilous sea voyages. Breaking away from the second dimension, reaching out, challenging and demanding.
Dave, approaching a parallel theme, went offshore to paint the cliffs. Of this experience Dave says "The boat was small and the sea, vast. The further from land we went, the more I became aware of the boundless expanse of sea and sky. The evenness of tone and colour between the sea and the sky was unlike anything I had seen from the land."
Taking two years to create a body of work: paintings and prints, these works formed 'All at Sea,' a joint exhibition at Edinburgh's Sutton Gallery on Dundas Street in 2016.
Recently both have turned their attention from sea to land – Dave capturing the changing nature of gardens though the year. Morag by her project on farming diversity 'Another Field' sponsored by Arts Council England.
They really immerse themselves in their subjects, Dave working in situ in all kinds of light and weather. It's not surprising, given their conviction that the artist's role is to engage and involve, that Foldyard is so open and generous with time and support, working with the Berwick Visual Arts residencies, and the Berwick Film and Media Festival.
Artists have shared their Open Studios space, including Kirill Sokolov, Peter Hallam, Jonathan Lloyd, Katie Ward, choreographer Chloë Smith and film-makers Ben Sadd & Kathryn Elkin.
The Russian connection? Kirill Sokolov. Exiled from Russia, he settled in Berwick in 1974. Some artists respond to place, others take their homeland with them. Sokolov's Russian origins never left him. Sculpting in 1975, to help adjust, he wrote of "... the emigré complex. I could not believe in the unfamiliar. The way out was to make objects I could be certain of."
Despite influences – Cezanne, Cubism, Constructivism, Mondrian – it is Russian passion, strength, soul and sincerity that comes through; that, and a mastery of material and technique.
Now I understand why Dave and Morag continue to promote his work, and exhibit his work at their Open Studios. They met Sokolov in the 1980s, teaching, printmaking and exhibiting at Charlotte Press, now Northern Print, in Newcastle-upon-Tyne. He passed them the baton. It was a good choice.
More from: www.foldyard.co.uk
NICK JONES