Close shave at Barber Burgon's
"I KNOW, Mum, hair's getting a bit long, needs tidying up." She's fussing, the week before school starts. So, off I goes to Burgon's Barbers, down Tweedmouth.
A barbers for sixty years, the family business passed on over three generations. Grandfather Burgon started on Berwick's Bridge Street in 1919, then up West Street, finally moving to Tweedmouth in early 1950s. Good to know some places don't change. Grand for seeing mates, having a bit crack.
Turning the corner, I walk in. Doorbell tinkles, same as always, but nowt much else. No sickly sweet smell of brilliantine, Californian Poppy I think it was.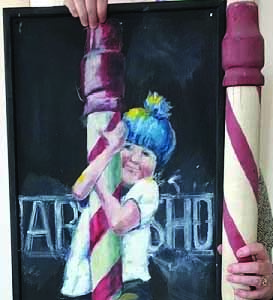 With school rulers on the walls, and a blackboard on the narrow door at the back of the shop, am I waking or dreaming. School? Non. Barbers? Nope. Gallery.
Yes! Art gallery, can you believe it? Good one too. Mary Drummond, who runs the Dockside Gallery, she used to live in Dornie's old schoolhouse (where else!) just over the watter from Skye. Not surprising then that she and artist Lindsay Madden should find each other.
Lindsay, interested in found wooden objects, likes the surface quality of wood as a medium for drawing and painting on. Especially old school rulers and blackboards. She's interested in how and why people are measured, measure themselves, measure up, along with all the baggage of education, uniforms, conformity, and control. Look smart, feel smart, tidy, ready for school, work, a wedding, to be on telly...hair nicely cut.
So Mary's invitation to produce a piece for Dockside Gallery was just the ticket. The l'al laddy with the blue woolly bobble hat looks like he's having a good time, going up the pole, and, no doubt, driving his mum up another one.
He's doing well, but it's reet greasy and there's a body hiding behind the blackboard, holding a second pole, the real one, checking to see if he measures up.
'Cos there's a dark side to rulers too. They're good for rapping knuckles, keeping order, ruling even. One slip and it looks like our l'al laddy might find himself in some abysmal cloud of unknowing down below. That hand at the top, is it going to pull him up, or push him down?
Either way, it's not clear whether he's just had, or is just about to have a trim. That blue hat, it's keeping quiet too.
You know what, I think I'll forget that haircut for now.
NICK JONES
Work by Lindsay Madden at the Dockside Gallery, 84 Main Street, Tweedmouth, Berwick-upon-Tweed TD15 2AA. 01289 302437. Open Tues - Sat, 10am to 5.30pm. www.docksidegallery.co.uk