Le circuit de Mackintosh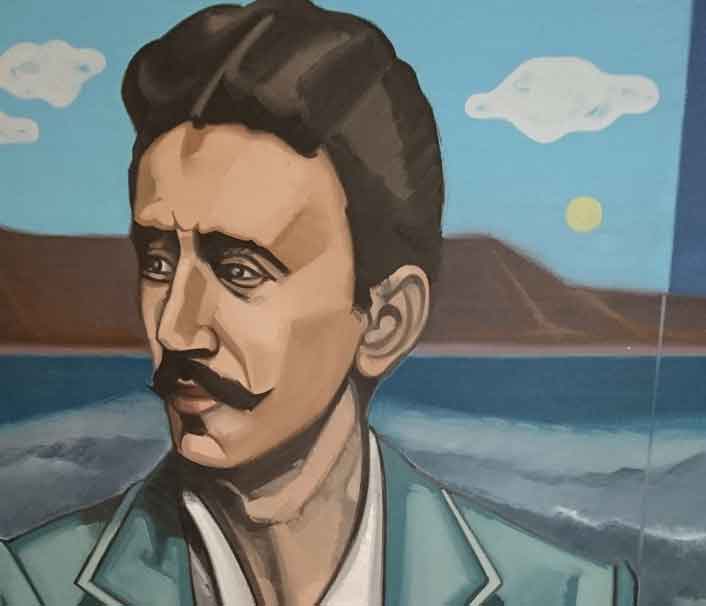 IN DECEMBER 1929 Charles Rennie Mackintosh's wife Margaret scattered his ashes in the harbour at Port Vendres in south west France. The Mackintoshes had spent their last happy years together in the Roussillon area of France, Port Vendres being the town where they finally settled.
Although Charles Rennie Mackintosh is a big name in Scotland, he is not so well known in France: this is not meant to diminish his achievements it is just a fact. However, Mackintosh is a greatly respected figure in France (especially in Roussillon) , a testament to this is around thirty reproductions of his watercolours placed in situ and three interpretation centres dedicated to him in Port Vendres, Amelie-les-Bains-Palada and Ille-sur-Tet collectively known as the Charles Rennie Mackintosh Trail.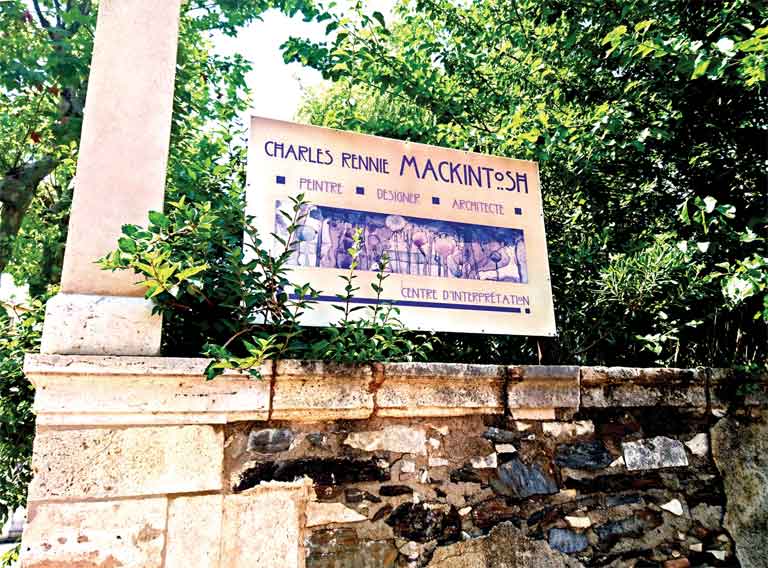 Centre interprétation Mackintosh
Each centre venue has a long history attached to it, thus providing interesting settings in which to appreciate Mackintosh's contribution to the world of art and design.
The centre in Port Vendres sits in a pretty garden behind the Dome museum and art gallery which was designed in 1776 as part of a model new town but due to the French Revolution it was taken over by the army in 1835.
The centre displays many facsimiles of Mackintosh's watercolour landscapes of the surrounding area, for example "Rue du Soliel" which is said to reflect the similarity of style between Mackintosh and the Austrian painter Gustav Klimt whom Mackintosh met earlier in Vienna. Also, "The Little Bay" with its emphasis on geometric pattern and distinctive use of colour and light.
The centre in Palada is located within a medieval building which also hosts a museum of traditional artefacts. It sits next to the 10th century church of Saint Martin's which was consecrated in 933.
After spending forty-five minutes in the blissful surroundings of the church courtyard waiting for the centre to open it was a rude awakening to be confronted by the stern museum assistant who ushered us in. She proceeded to march around switching on three video screens which competed with each other for attention, the cacophony obliterating the sound of birdsong which lingered in my head from the outside reverie.
One snippet of information, however, did attract my attention, the commentary claimed that the Glasgow School of Art had "changed little" since it was built. Hello – haven't they heard about the fires? Apparently not.
The set of four original railing tops from the art school they have on display here, therefore, take on a significant presence given what little is left of the building now. In the midst of so many facsimile paintings it was unclear if other items were original or reproductions so I asked the scary assistant if a chair on display was original. "Oui," she said "from Glasgow".
The centre in Palada is interesting, it has a little more variety than the Port Vendres centre, for example, a display of Mackintosh designed textiles which were never commercially successful but would nevertheless not look out of place in IKEA today.
Also on show are examples (on paper) of his unbuilt building designs including the design for a concert hall which was completed in 1898 then submitted into a competition for the Glasgow International Exhibition in 1901. The building, which looks like a flying saucer, was considered to be an engineering improbability at the time, however, as what looks like a twentieth century building designed at the end of the nineteenth century, it was truly ahead of its time.
One wonders, therefore, if Mackintosh could have found financial backing in France (perhaps from his wealthy acquaintance Frank Burty Haviland) might he have resumed his career as an architect? What buildings might he have built?
I don't know if Glasgow School of Art will be rebuilt, however, I do know that I discovered a Charles and Margaret Mackintosh in France that I never got to know in Scotland. Mackintosh was a citizen of the world who did not care to be pinned down, this comes across clearly when he said "You must be independent. Go alone - crawl - stumble - stagger - but go alone".
Isn't it time to let him go, Glasgow?
CATHY BELL