In search of New Town art
AT THE END OF November an exhibition dedicated to Livingston New Town will be held at Howden Park Centre. Nothing unusual about that you might think, except that it runs for a whole year. In previous articles (AW196 – Winter 2016) I noted that the provision for the arts in WL had been eroding, HPC had a programme of two exhibitions per year but now that has plummeted to just one exhibition per year.
Mentioned in the same article was West Lothian Council's initiative of Delivering Better Outcomes which stated that some non-priority services would be cut. Exhibitions at Howden Park seem to have fallen victim to this cull – alongside the disappearance of several Porta-loos in the area!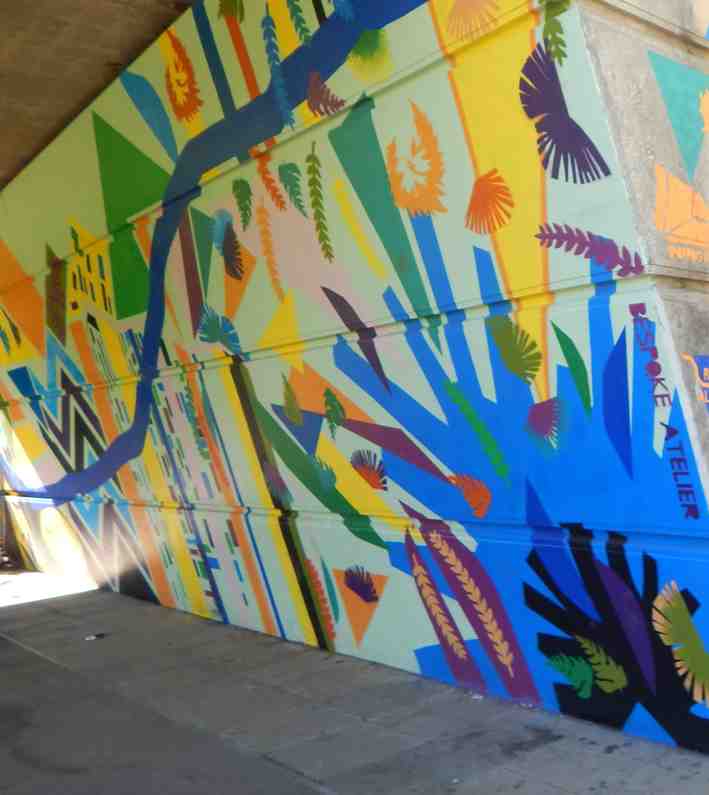 Officially sanctioned graffiti in Livingston
The year-long exhibition is entitled Livingston New Town: Art, History, People. Livingston does have history and it does have people that cannot be denied – but art?
As a long-time resident of the town I am not aware of any artistic vibe about the place. Perhaps they mean the plethora of public art which has been the ethos of the council since the town's inception in 1962? If that is what they mean I would suggest that even that has deteriorated in the intervening years since Livingston Development Corporation (LDC) handed over the reins to WLC.
The exhibition blurb mentions the presence of 'Town Artists', but where are they? Public sculptures are dotted around the town, however, there is no evidence of who created them, or the spaces they were created in, or the spaces (indoors) where the visual arts can be further explored.
There is no evidence of studio space or exhibition space to speak of, if they exist at all they are hard to find. Talking up the artistic status of the town is all well and good but there is little material evidence to back it up apart from the public art which varies in quality and relevance and which has in recent years often lacked merit.
Take the four murals installed by the Glasgow based design company Bespoke Atelier (with input by some members of the community): although these are technically accomplished and fulfil the brief of involving the community they lack honesty. They come across as a kind of sanitised graffiti, real graffiti is preferable because there is a sense of personal engagement in real graffiti which is not evident in these murals: they are too corporate, they fulfil a brief.
Back in the 1970s Denis Barnes was the first Town Artist (yes, such a position did exist), Unfortunately, encouraged by the LDC, Barnes formed the commercial enterprise Town Art Limited and so began the slippery slope which eventually paved the way for the sort of production line public art which is prevalent today. Nevertheless, Barnes's legacy is still to be seen in the town, with pieces such as Old Men of Hoy, which does exhibit that sense of personal engagement which other later works fail to achieve.
Peter Daniel, the first architect in charge of planning the town, was sacked in 1964. He later claimed that he regretted failing to persuade Heriot Watt University to locate in Livingston. Might the presence of a university have instilled a stronger cultural identity in the town?
A short film featuring Daniel, called New Town Blues, stands as a testament to his radical approach to what a new town should deliver for the inhabitants. He was a man of vision, but, according to the late Tam Dalyell, he was sacked because the then general manager of the LDC "did not care for opinionated architects with beards."
This is telling as it suggests the future direction Livingston would take – i.e. a reluctance to embrace vision and value the intellect of the people. This upcoming exhibition will, no doubt, express a different view, but art and people are inseparable. People are not defined only by being passive 'consumers' of public art.
CATHY BELL
---