One man's vision amongst the pit bings
LOOMING over the small West Lothian towns of Winchburgh and Broxburn lies the monumental artwork Niddrie Woman. The question is, is this art or is it just tons of waste material left over from the now defunct shale oil industry? The answer is that it is both.
In the book Out in the Open, which documents public art projects in West Lothian, Niddrie Woman has been side-lined, mentioned only in the introduction section. The author asks "does a work become a work of art when 'the public' recognise it as such? Regardless of the intention of the maker?"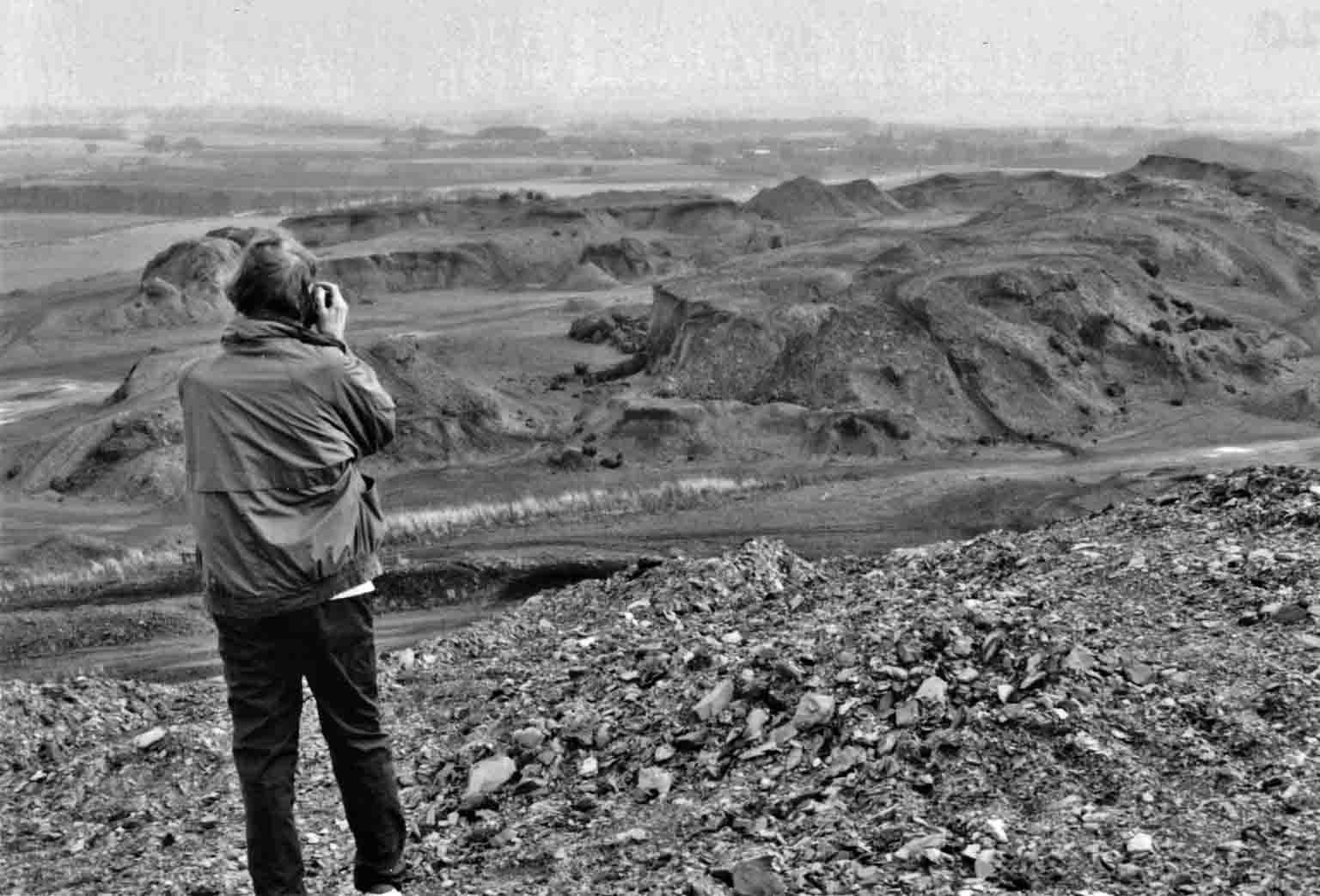 John Latham photographing the Niddie Woman in 1990. Courtesy Murdo Macdonald
My guess would be that the socalled 'maker', artist John Latham's intention would have been to create a piece of art no matter whether 'the public' recognised it or not.
John Latham was primarily a conceptual artist and Niddrie Woman is a conceptual piece, what he termed as a 'process sculpture'. It started in the mid-1970s when Latham was commissioned by the Scottish Development Agency to re-imagine four shale bings in a creative way, thus transforming them into a piece of art.
The project was part of what was called the Artist's Placement Group (APG) whose aim was to place an artist in an organisation with the intention of looking in a creative and imaginative way at certain things (in this case the shale bings).
The APG archive held in the Tate Gallery provides evidence of what Latham produced such as a feasibility study which is said to lack detail, it is said to be more philosophical, which is in keeping with the conceptual nature of the piece.
However, on a practical level, Latham did make studies of aerial photography of the area and this research enabled him to identify the four distinct parts of Niddrie Woman, the torso, the limb, the head and the heart.
An article written by Craig Richardson (Waste to Monument: John Latham's Niddrie Woman Art & Environment) reveals how difficult it is to pin the work down, it also reveals that much of it has been "hidden away as unrecognised facets within a lifetime's albeit incomplete project".
A telling section in the essay also suggests that Latham was not acting as a (local) community artist, but was more concerned to attract the attention of the international avant-garde.
Ironically, the situation is that the project has never transmitted to either the local nor the international community. One wonders, therefore, why this piece has, for the most part, disappeared; why is it not better known?
There seems to be an element of neglect here since, even if it were classified as part-heritage, there seems to have been no effort by the local authorities to embrace it. The fact also that the shale bings have been identified as habitats where a diversity of very rare plant species are thriving is not enough to create interest in Niddrie Woman.
This could be because it is difficult to classify a work of art that defies classification. It has been described as an 'intrinsically unclassifiable artwork'. Also, despite contemporary interest in ecology, the bings are still to be validated art historically.
However, with a bit of effort and imagination, Niddrie Woman could have become an iconic piece, it could have attracted attention from the local community and internationally given the promotion and support it deserves.
In a local authority document regarding public art, the regeneration of Winchburgh is discussed. It states that a group of artists and architects have been commissioned to create one piece of bespoke public art to act as (as they put it) a 'trail blazer'.
Did they not realise that they already had this on their doorstep in the form of Niddrie Woman? John Latham was a formidable artist. He was a pioneer of British conceptual art, he was often controversial, however, he remains an influential and inspirational figure within the international art world.
Niddrie Woman obviously meant a great deal to him since his ashes were scattered on the Heart in 2006.
This unique signature is evidence that Niddrie Woman, as a work of art, is alive and thriving even if incognito – perhaps that is what Latham would have wanted? However, considering that he put so much of himself into this piece, would it not be a fitting gesture to celebrate him in West Lothian in this centenary of his birth?
CATHY BELL
---