BANG on – the interplay between sound and silence
I'M BACK at the Old School in Alnmouth. There's an old upright piano in the gallery, unusual because you can not only play it, but also read it. It's a legacy of Jonny Hannah's 2021 exhibition 'Northumberland Folk'. He's inscribed and decorated it with references to tales gleaned from people and places across a landscape that sings; you just have to stop and listen.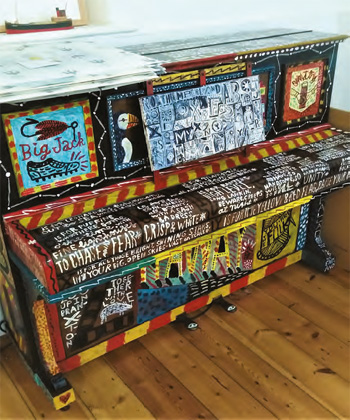 Hannah's piana © Nick Jones
An inspiration to many, musicians, composers and sound artists included. Katherine Tickell is perhaps one of the best known, learning tunes from old shepherds, out on the foothills of Cheviot, surrounded by call of curlew and lapwing.
Northumberland born, Geoff Sample specialises in not just recording birdsong but linking it to place and time. He's currently working on a project for Radio 3's 'The Essay', about iconic European soundscapes.
For composer John Casken, who also organises Wooler Arts Summer Concerts, this landscape, its changing colours, huge skies, and poetry have formed a thread throughout his music.
Also living under Cheviot, looking east to sea and Farnes, artist James Hugonin's work resonates in visual form with the compositions of Steve Reich, Morton Feldman and Philip Glass. His paintings are defined by rhythm, mathematical form, and a subtly repetitive, meticulously organised grid of coloured squares and oblongs. No surprise, then, that he has worked with composers Gavin Bryars and Howard Skempton, or that his 2015 show at Ingleby Gallery, Edinburgh, was entitled "Binary Rhythm", exploring potential relationships between prime numbers.
Hugonin's fascination with space, place and spirit gets me thinking. According to David George Haskell, writing in his new book Sounds Wild and Broken, for two billion years it was only bacteria that sensed sound, until a sea creature evolved a tiny wiggly hair called a cilium enabling it to hear changes in water flow, to help find food.
Now, we're overwhelmed by sound, whether we like it or not. And not just us, for we know that noise affects all creatures, on land or in the sea, and not always in a good way.
So when are sounds music, and not noise? Why is some music just noise, to some; and some noise, music, to others? Musical instruments enable pitch, intensity and wavelengths to be managed and coordinated, but 'noise music' challenges the difference between musical and non-musical sound.
Sound art, aka sound sculpture, expands the concept of an art installation to include sound and, therefore, both time, space, and by implication, nothingness, the void in between.
Mike Worboys, composer, mathematician and practitioner of zen, who lives in Berwick-upon-Tweed, puts it like this: "Music is an interplay between sound and silence; zero is a foundation of our number systems; and the void and emptiness, as well as keeping silence, are fundamental to many religions."
Alan Watts, self-styled philosophical entertainer, wrote : "When we listen to music we are not listening to the past, we are not listening to the future, we are listening to an expanded present. The past always flows backwards from the present.
"Watch the flow of music. The melody is changed by the notes that come later. The present is always changing the past. No one imagines that a symphony is supposed to improve as it goes along, or that the whole object of playing is to reach the finale. The point of music is discovered in every moment of playing and listening to it."
I'm listening. Mr Blackbird is sitting on top of a tree, singing his heart out. He's been going since first light. Later, he'll welcome in twilight. The east wind brings sounds of breakers on Goswick beach, six miles away.
BANG! The first of a sequence of four, from a bird scarer, keeping pigeons off the oilseed rape that surrounds us. A couple of miles away, the steady background hum of cars, lorries, tractors and the occasional siren herald another working day.
BANG! Ten miles away, over Cheviot, a chopper, heading for Edinburgh, drums the air relentlessly. Right above a transatlantic jet heads for Amsterdam, rudely breaking into, but not stopping, the skylark's incessant song.
Inside, on Radio 3, Petroc Trelawny tells us today's temperatures, in Totnes, Todmorden and Thurso. Out at sea, a bright red oil tanker beats the waves, heading for Hound Point depot in the Firth of Forth.
Time for Gymnopedie practice! BANG! Satisfying because, played slowly, some of French composer Erik Satie's compositions can sound passably competent, even by moi!
He only made one phone call, and listened to one radio programme, ever. We speak of white noise, a kind of shushing sound made up of all the frequencies audible to the human ear, but white meant something very different for Satie. At Les Maisons Satie, in Honfleur, there is a room, including floorboards, piano and stool – all white. BANG!
Satie obsessed with this colourless colour, wearing white suits, even eating white food. Apparently, in later life, living in one very small room in Arcueil, Paris, he had two white grand pianos, sitting on top of each other, and, perhaps, a very tall white piano stool.
And so to Lindisfarne Castle, where gusting winds whistle down the chimneys, and gulls screech overhead. A frequent guest a century ago was cellist Guilhermina Suggia. How wonderful to hear Bach's Unaccompanied Cello Suites in the Music Room!
Now sound artist Paul Rooney and cellist Gyöa Valtýsdottir have collaborated on 'Song (After Nature)', a contemporary, immersive, soundscape installation inspired by the mournful cries of Holy Island's grey seals.
There's a sinister echo to Paul's work. He hears these cries, like the deadly siren songs in Homer's Odyssey, as a warning: "Beware, climate change cometh, and quicker than we think!"
NICK JONES www.woolerarts.org.uk www.woolerarts.org.uk www.nationaltrust.org.uk/lindisfarne-castle/features/paul-rooney-at-lindisfarne-castle---song--after-nature